Cameron Smith x The Canvas Collection
Edition 1 of 2
DOWN TO
EARTH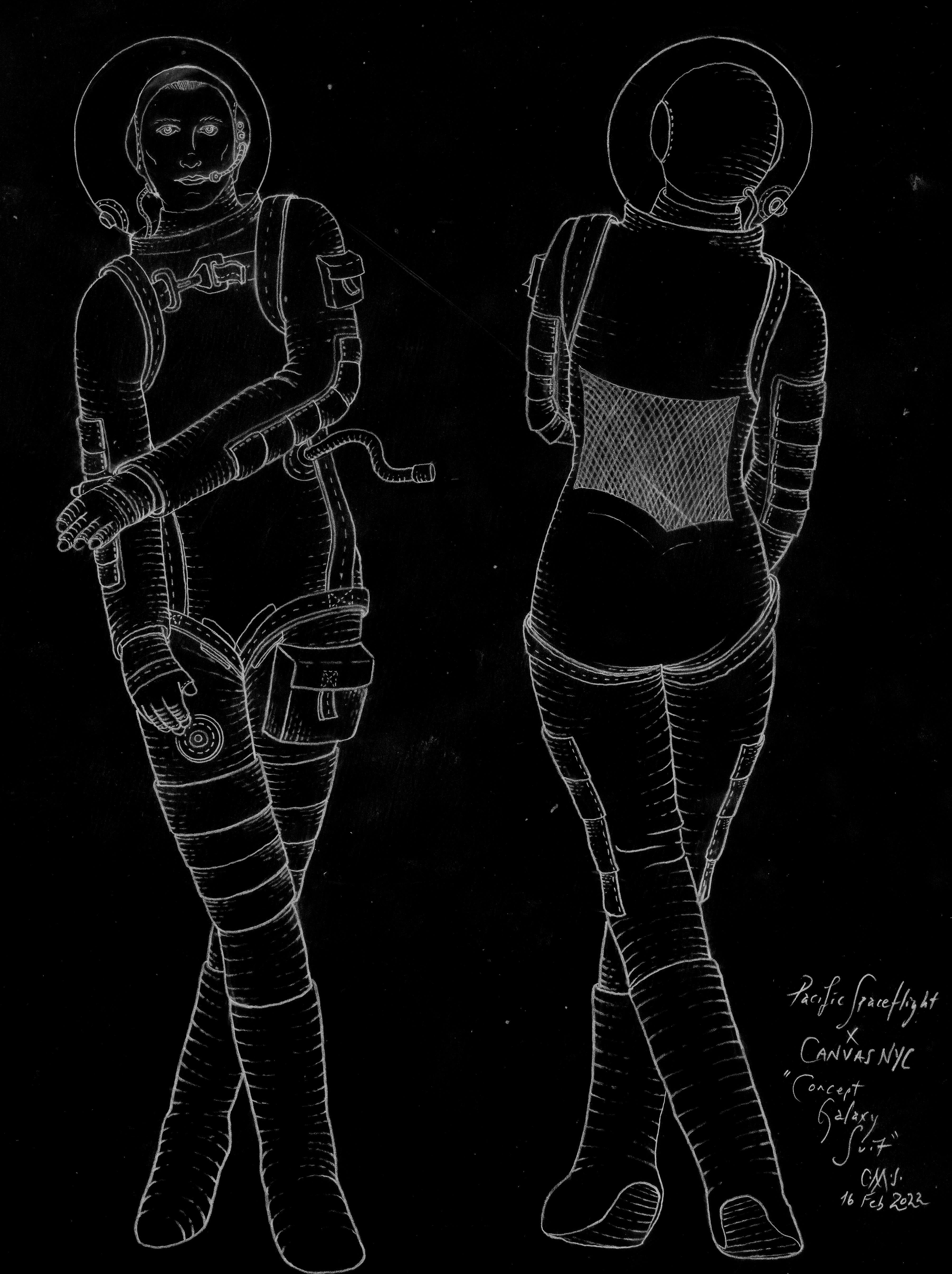 Reserve price will be set once auction begins
Auction will begin shortly
Description
The Canvas and Pacific Spaceflight team up on an NFT collection blending the digital, physical and extraterrestrial. This limited NFT collection comes with a fully customized, couture spacesuit handmade by Cameron Smith. In owning the NFT, you will be among the first two people to have membership to The Canvas and Pacific Spaceflight's Exploration Group.
This fully-functional pressurized garment would keep you alive if your spacecraft lost pressure. But more importantly, it will carry your own visual aesthetic, communicating that humanity beyond Earth will continue to celebrate its creativity and personal identities. No duplicate will ever be made of this space suit.
About Down to Earth
Down to Earth, a double entendre, speaks of two perspectives we need in the coming decades. One is the spirit of adventure, and the view we will have as we pursuit it. Those who have reached the final frontier, and looked back towards their home, down to Earth, speak of a perspective forever changed.
In its second meaning, Down to Earth speaks of humbleness, awareness for the ground we stand on. This installation brings together these two distinct, but forever interlinked, perspectives. Earth is where we come from and if we are make it to new destinations, it is the most important spaceship we have.
Information
Each suit will be a unique creation, tailored for your size and embellished visually for a one-of-a-kind appearance by Dr. Smith and The Canvas. Each spacesuit is embedded with an IYK* chip, which can be scanned to claim the linked NFT upon receipt. You won't need to download an app to claim.
The linked NFT can be claimed in perpetuity. Thus, if you sell your spacesuit, the new owner will be able to pull the NFT out of your wallet into theirs.
Artist Stories
Dr. Cameron M. Smith, an archaeologist at Portland State University, has spent the last decade applying the lessons of the human past to the distant human future. He forsees great opportunities for the arts and philosophy as humanity explores its stellar neighborhood, just as children learn by traveling farther from home, year by year. To implement this philosophy materially, Dr. Smith and his Pacific Spaceflight team have spent a decade learning to design, build and test functional space suits. To support the goal of lowering space suit cost and complexity, Dr. Smith offers the Pacific Spaceflight / Canvas Galaxy Suit as a physical object representing marvelous futures for our species.
The Canvas is a New York City-based platform for emerging creators and designers following the Sustainable Development Goals. The Canvas occupies vacant spaces in cities and transforms them into retail and event spaces to provide physical retail access to a global community of designers, from couture labels in Paris to artisan makers in Peru.
Physical Properties
Nomex, Spentex and other flameproof textiles; polyurethane-coated Oxford cloth; aluminum 6061-T; silicone; canvas; polycarbonate; leather or faux leather; Nomex thread; artificial sinew; 1/16" steel rope; 5-6mm Spectra cord.
Roughly 10kg, depending on design choices
Custom fitted! Upon purchase, you will be connected directly to Cameron Smith and the Pacific Spaceflight team.
Utility and Benefits
Right to claim an customized physical spacesuit, tailored to your specifications by Cameron Smith and The Canvas

Official Membership into Cam and Canvas "Space Group"

Exclusive group chat with Cam

Behind-the-scenes content

Training opportunities with the Pacific Spaceflight crew, including training flights to extreme altitudes, or exploring Mars-like terrain of Eastern Oregon, while wearing your Galaxy Suit.